Josephine Foster is a singer-songwriter, multi-instrumentalist, and composer. Hers is a 'music that plays games with our ideas of time and space' (The Guardian). At the juncture of art song and folk song she walks a musical high wire, spanning from the tender mysticism of Eternity, Magenta, or Old Saw, towards the operatic, gothic psychedelia of Deathknell, Geyser, Guardian Angel, or The Garden of Earthly Delights. Byron Coley calls her 'one of this generation's great original voices', and she is 'known to breathe new life into archaic forms, embodying the cultural archaeology of Harry Smith's old weird America, and has lent her characteristic warbling mezzo-soprano and interpretive wit to over two decades of recordings' (Blank Forms).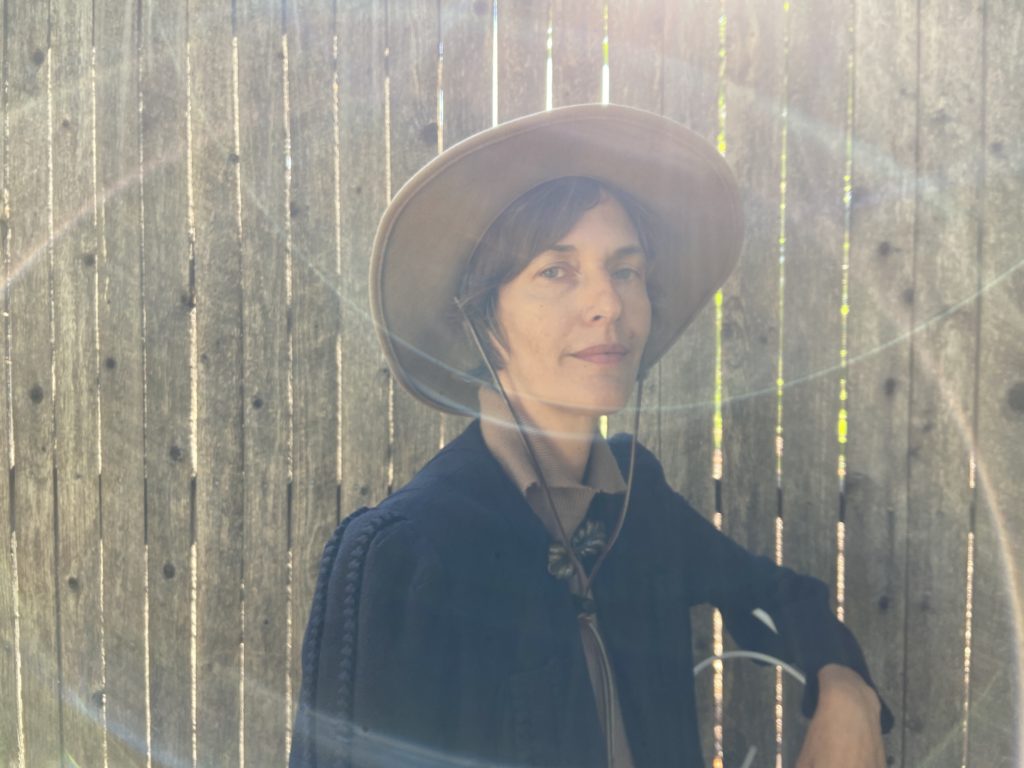 Josephine has released some twenty albums, song cycles drawn from her own singular songbook, performed solo or leading various ensembles, occasionally under band guises: Mendrugo, the Supposed, Born Heller.  Peripheral but not insignificant are her unorthodox arrangements of 19th century German Lieder, the folkloric collection of Lorca, or her musical settings of Dickinson and other poets. Foster is a poet herself, as well as visual artist.
She has collaborated on stage or in recording with Michael Hurley, The Cherry Blossoms, Victor Herrero Band, Keiji Heino, Gyða Valtýsdóttir, Sonny Simmons, Paz Lenchantin, Jason Ajemian, The Master Musicians of Joujouka, Daniel Blumberg, Shahzad Ismaily, Heather Trost, Chris Scruggs, Lorena Alvarez, Moon Bros, Alex Neilson, Ed Askew, Susan Alcorn, Michael Zerang, Eric Chenaux, Louis Landes Levi, David Pajo, Alasdair Roberts, Victoria Williams, Hamza el Fasiki, Ailbhe Nic Oireachtaigh, Les Fils du Détroit, and Kath Bloom.
Originally from Colorado, she lives between the US and her adopted Spain and she has performed around the world at venues such as Cafe Oto, Issue Project Room, Zebulon, MoMA PS1, Constellation, Museu Nacional de Arte Contemporânea, ODA, Tangier American Legation Museum, Paradiso, Springwater, Tonic, Arkaoda, Chicago Cultural Center, Les Instants Chavirés, Beirut Art Center, Teatro Fondamenta Nuove, EMPAC, Trans-Pecos, Barbican, Monasterio de Santa Maria de las Cuevas, Troubadour, Andy Warhol Museum, ZDB, Palazzo Biscari, Trinosophes, Musée national Eugène Delacroix, Brown's Diner.
Some past festival appearances include Le Guess Who?, London Contemporary Music Festival, Donau, ArthurFest, Liverpool Biennal, ATP, Copenhagen Jazz Festival, Etcetera, KRAAK, Million Tongues, Counterflows, Stockholm New Music Festival, Suoni per il Populi, Incubate, Green Man, Platform, Serralves, Mimi.
2022's Godmother (Fire) and Spellbinder (Takuroku) are two new solo records that bring front and center for the first time Josephine's own synth arrangements. Mystery Meet and What is it that ever was? (Feeding Tube), collections of improvised song experiments released as CD-R's in 2006, are now available in their first vinyl pressings.